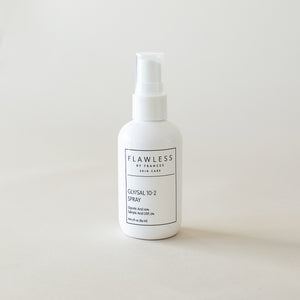 Gly-Sal 10-2 Spray treats and prevents body acne breakouts on; back, chest, arms. and legs, with purifying salicylic acid and glycolic acid. Salicylic acid eliminates acne-causing bacteria, unclogs pores and controls excess oil production. A 10% dosage of glycolic acid exfoliates and enhances skin clarity, also smoothing skin texture. The easy spray applicator allows you to reach difficult areas, for all-over treatment.
Ideal for these Concerns: Acne, Whiteheads Blackheads
Ideal for these Skin Types: Acne-Prone Skin on the body
Key Ingredient(s): Glycolic Acid, Salicylic Acid 
How to use: Cleanse treated area, spay onto a cotton round, wipe area that is being treated one to two times daily. If irritation develops, discontinue use and consult a doctor. Using other topical acne medication at the same time or immediately following use of this product may increase dryness or irritation of the skin. If this occurs, only one medication should be used unless directed by a doctor.
Ingredients: Active: Salicylic Acid 2%, Glycolic 10%. Innactive: Acetone, Ammonium Hydroxide, Disodium Edta, Glycolic Acid, Hamamelis Virginiana (witch Hazel), Water, Imidazolidinyl Urea, Polysorbate-20, Purified Water, Sd Alcohol 40b (13% V/v) Sodium Benzoate.