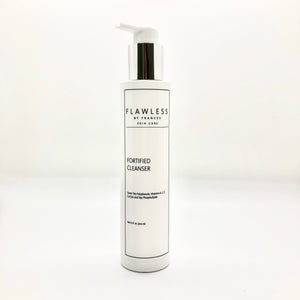 Fortified Cleanser is a rich, soap-free cleanser designed to gently cleanse and moisturize the skin without drying. This antioxidant formula contains a blend of liposomal vitamins A, C & E, Green Tea and White Tea in combination with Coenzyme Q10 to minimize free-radical-induced skin damage while moisturizing, soothing and restoring healthier looking skin.
Ideal for these Concerns: Free Radical Damage
Ideal for these Skin Types: Sensitive Skin, Dry Skin, Normal Skin, Flush/Red Undertone Skin
Key Ingredient(s): Vitmamin C, Antioxidants, Green Tea, Vitamin E, Coenzyme Q10, Vitamin A
How to use: Apply a moderate amount to wet skin and massage gently. Rinse clean with lukewarm water and towel dry. Use daily or as directed by your physician.
Ingredients: Purified Water, Sorbitol, Ammonium Lauryl Sulfate, Cetyl Alcohol, Stearyl Alcohol, Camellia Sinensis (Green Tea) Leaf Extract, Camellia Sinensis (White Tea) Leaf Extract, Camellia Sinensis (Green Tea) Polyphenols, Phospholipids, Citrus Aurantium Dulcis (Orange) Fruit Extract, Retinyl Palmitate, Ascorbyl Palmitate, Tocopheryl Acetate, Butylene Glycol, Ascorbic Acid, Chitosan, Propyl Gallate, Superoxide Dismutase, Ubiquinone (Coenzyme Q10), Bisabolol, Sodium Benzoate, Potassium Sorbate, Phenoxyethanol, Disodium EDTA.