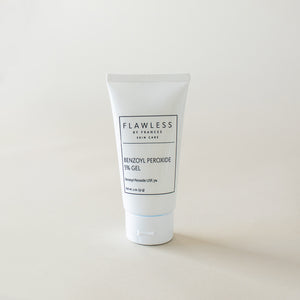 Acne Gel Benzoyl Peroxide 5%. Formulated with Benzoyl Peroxide, this highly effective ingredient works to treat acne by stopping bacteria from forming and growing. This product neutralizes skin without irritating.
Treatments and Serums: Acne Treatment 
Ideal for these Concerns: Acne, Cystic Acne, Hormonal Acne
Ideal for these Skin Types: Acne-Prone Skin
Key Ingredient(s): Benzoyl Peroxide
How to use: Cleanse the skin thoroughly before applying. Apply a thin layer daily-spot treat area only, then gradually increase to two times daily. If bothersome drying or peeling occurs, reduce applications.
Ingredients: Benzoyl Peroxide, USP 5%, Carbomer, Purified Water, Sodium Hydroxymethylglycinate, Sodium Lauroyl Sarcosinate.